Software can do, mean, and operate as a whole wide range of things. But today, we'll be looking at the hand-picked best affiliate marketing software tools to help you master the trade efficiently.
After all, some support, even at a cost, can save you resources in the long (or even short) run.
Read on to discover the best online tools out there for you and your business.
No banner with provided ID found
Affiliate marketing strategy: from average to successful
Here's the big secret behind affiliate marketing's success – it's easy. Well, relatively easy, but still. Being an affiliate is fairly simple in the beginning. The trouble starts later.
It can take you a year, a month, or even just a few weeks. But, eventually, you will long for a change. You will want your affiliate business to evolve. You will aspire to grow as a professional.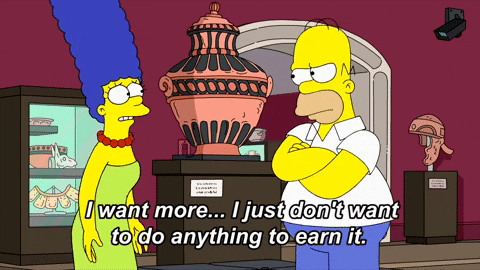 Unfortunately, Homer is out of luck. You do need to do something to earn it. And I'm here to tell you what it is exactly.
How to master affiliate marketing?
I won't lie – just like in any other field, a successful affiliate marketing strategy comes with late nights in front of the screen, more caffeine in your system than water, and other plagues of the modern business world.  
It can get overwhelming.
That's why you'll need some extra help along the way. And that's where the tools come in – including affiliate marketing software like Voluum. 
No banner with provided ID found
Get the best affiliate marketing software & tools!
The best way to stand out in the affiliate world is for your campaigns to get the most clicks. There are many different ways you can go about it, but in the end, it all comes down to the geer  you use.
Presenting to you 25 best affiliate marketing tools. They'll surely make your transgression from an average wannabe to a professional as smooth as possible! 
Landing Page Builders, Content, and Design Tools for Affiliates
I'll assume you're not completely green and know a thing or two about affiliate marketing. But just to refresh your industry knowledge, feel free to check our extensive guide on How to Start in Affiliate Marketing.  
Now that you've caught up with the theory, it's time to move on to the practice.  
In this part, we're looking into the tools and software upgrades you can apply on the very first stages of launching your affiliate campaigns:
Lander builders

WordPress plugins

Content creation

SEO

Design
Please keep in mind that it's not a rating, but rather a handpicked selection of the most helpful software for affiliate marketers. It's a subjective selection and if your favorites don't make the final cut – let us know in the comments what I've missed. 
Best landing page builders
Truth be told, you don't necessarily need a website to do affiliate marketing. But, oh boy, does having one make things more effective! And, fortunately for you, in our age, setting one up can literally take minutes. That is, if you know where to look, of course. You can keep on reading right here for my favorite top 3 lander building software solutions, but if your soul craves more – check out this article for the Best Landing Page Builders for Affiliates.
Chances are, the first time you've heard about Wix was one of those annoying YouTube commercials you can now recite in your sleep. Yet, it's a good lander building tool for affiliates. Wix is free (you only pay for the hosting solution), uses AI to spare you the headache of choosing the right template, and is intuitive enough for your grandma to master it in less than a week.   
Unlike Wix, Instapage is a very straightforward lander-specific software. Designed with affiliates just like you in mind, this fella can cater to all your affiliate needs up to the point when you decide that landers alone aren't enough to grow your profits. Instapage offers built-in A/B testing, heatmaps, ad-centered experience, and more. 
I'll spare you the detail on how WordPress.com is different from WordPress.org, so you'll just have to trust me – as an affiliate marketer go for .com one.  It's still one of the most full-stack solutions for those of us who want to avoid dealing with the backend. Chances are, most of the websites you're interacting with are WP-based anyhow. 
Which brings us to the next point.
WordPress tools for affiliate marketing 
The funny thing about WordPress is that by itself it's not much different from Wix and other popular website builders. The secret behind it being on every single one "the best affiliate marketing tools" article is the stack of plugins and external resources for WP-based websites. They are the real reason behind the custom experience promised by the platform.
ThirstyAffiliates is a link-cloaking plugin that thrives on your desire to protect your commissions from the long-tailed URLs. On top of this basic function, the plugin also provides autolink keywords, reports of your links' performance, automatic 404 checks, and allows for 3rd party link importing (e.g. Amazon Products API). 
MonsterInsights is the Google Analytics plugin for WordPress. We'll get more into the importance of data analysis for your affiliate campaigns in the next part. However, I do have to point out that Google Analytics, while extremely useful for website owners, is not so good for affiliate marketers. That's because you usually have third party offers and don't have access to the given product's website. Here's where an affiliate tracking software like Voluum really delivers the results an affiliate needs.
For now though, back to MonsterInsights, let's just say that if your website is running on WP and you don't feel like manually setting up all the tracking tools – this might be the ultimate solution for you.
As a rule, affiliate marketers use landing pages for contact or registration forms. In fact, if the solemn goal of your lander is to collect that kind of information, WPForms alone should be powerful enough to help you out. Just like other lander-building tools, WPForms uses drag & drop editor. Besides, it can be easily embedded in your pages and runs an automatic spam protection feature among other perks.  
Content & copy creation software for affiliates
Let's move from the technical part to the creative one. Having a good copy is essential for both your ad campaigns and the websites you associate with. Why? Well, for starters, good copy can really make a difference even for a lousy offer. Unfortunately, not everyone's a writer. But in 2023 it barely matters. After all, the right software exists for everything! 
The below list includes tools that help you work on your own content, however, in 2023 you don't need to shy away from AI-powered content generators like ChatGPT. Give them a try!
If there was just one tool on this list that I could personally vouch for – it's this one. My favorite part about Grammarly is that it takes care of the most annoying part of writing and lets you focus on the creative flow. This writing-enhancement tool will keep track of your grammar, style, and tone of voice. For most of the marketers out there, the free version of the app should be more than enough. If you're feeling extra funky, though, paid Grammarly can practically do the writing for you. 
This one will be particularly useful for those who put a lot of emphasis on blogging, but it could save you some trouble with short ad copy as well. Ernest Hemingway was one of the greatest writers of his generation because he mastered the art of brevity (something that's clearly missing in this post). Hemingway Editor App calls you out on all the unnecessary pathos and encourages you to jump straight to the point. And the best part? It does so absolutely free of charge. 
But how do you determine what is actually good and effective copy? Something can be beautifully written, but maybe not all that convincing to viewers. Use an affiliate tracking software like Voluum to stay on top of the performance of each version of copy. See what converts best with Voluum's analytics and tracking.
Search Engine Optimization Software
9 out of 10 times writing for marketing purposes stumbles across the same issue: where does the border between "nice to read" and "good for SEO" lie? Today, stuffing your 150-words lander with keywords will probably do more harm than good. Constant updates to Google's algorithms are hard to keep track of, so nobody knows what the situation will be like tomorrow. That's why it's important for you to apply the right SEO tools to your affiliate marketing strategy.
You can't talk about SEO without mentioning this one. This all-in-one tool offers organic keyword research, rank tracking, SEO content templates, backlink building, and more. Unfortunately, conquering Google doesn't come cheap. At least you get to enjoy the 7-day free trial to see if Semrush isn't too complicated. 
There aren't many practical differences between Ahrefs and Semrush. Yet, many people prefer to use both at the same time for maximum efficiency. The software itself isn't cheap – that's how you know you're dealing with the best tools on the market.
Instead, you can find an absolutely free Ahrefs SEO toolbar for your web browser's extension. It will keep you updated on some of the core SEO metrics like domain rating, number of backlinks and/or referring domains, number of ranking keywords, etc.  
If you're into digital marketing, you must've heard about Neil Patel and abused a couple of his open-source resources. Ubersuggest is another one of those. This should be your number-one SEO back-up plan if both Semrush and Ahrefs would prove to be too expensive. Not quite as detailed, but Ubersuggest also provides you with all the essential data on your (or your competitors') domain, keyword research, and even gives content ideas. 
A part of Google Ads, Keyword Planner does exactly what you'd expect it to do – helps you find the most suitable keywords for your ad. If you were searching for the best affiliate marketing tool to run your campaigns via Google Ads – your search is over. It won't get any better than this any time soon. 
No matter how much research you did and how targeted your keywords are, you always need to keep your main goal in mind: conversions. Conversions are your profits. And how to tell if a certain copy is converting? Again, with an affiliate tracking software: Voluum.  
The best design tools for affiliate marketing
Now that we've covered the content part, there's yet another pillar of a successful creative – the graphics. You don't need to be the next Picasso, but it might be helpful to put some extra effort into designing your ads or your website. After all, many humans are highly visual learners. In fact, more often than not, it's actually the image that grants you the final conversion. 
Using a bit of extra help from tools like Canva, has never done any harm. Choose one of the thousands of templates, play with fonts and colors, and live up to that childhood dream of yours to be an artist. A free account offers enough options to get you started. And even if the app does persuade you to subscribe for the paid version – $9,95/mo is still cheaper than any outsourced designer!
Affiliate marketing is about many things, but one is far more crucial than others – the loading speed. You want everything on your lander to run as rapid and smooth as possible. Otherwise, the impatient client will go ahead and find someone who hasn't opted in for a gorgeous 1080x-resolution background. That's why image compression services, such as tiny PNG, are absolutely crucial for every affiliate. 
Best affiliate marketing trackers, spy tools, and VPN providers
The first part of the list told you how to get people to click on your offers more. Now let's see how you can make sure you'll always know who clicked, why, and what could be done better.  The next few affiliate marketing tools will focus on:
Tracking

Spying

VPN services
Best tracking tools for affiliate marketing 
Okay, okay, you got me – there aren't going to be many trackers here. I mean, come on, it'd be like digging my own grave! Instead, here comes the sales pitch: 
Voluum – the only affiliate tracker you'll ever need! 
Of course, there are others on the market, but why would you need any other affiliate tracker if Voluum lets you navigate, track, automate, analyze, and optimize all your ad campaigns in one place? We also boast constant updates and improvements, so you won't be bored or left behind.  Ain't that a dream? Try our affiliate software right now and see for yourself!  
The sales pitch is over. Now back to our list! 
The best affiliate marketing software for ad intelligence
In most cases, ad intelligence is fancy for "spy". Which is why, in the end, it all comes down to keeping track of your competition. However, there's a bit more to the term. For example, ad intelligence can bring more transparency to your own ads (i.e. how your ad spend is allocated). Overall, spy tools like the two presented below are essential for any digital marketer searching for a bit of extra insight. 
AdPlexity is the market leader when it comes to ad intelligence. The software provides you with a detailed overview of your competitors' mobile, native, push, and desktop ads. This tool allows you to analyze in-app ads, download landing pages with dependencies, keep track of campaigns running on ad exchanges, and more. With AdPlexity you can analyze every piece of a campaign in a matter of a few clicks. That's what makes it the best affiliate marketing tool for both beginners and seasoned marketers.  
The second-best ad-intelligence solution would be Anstrex. This affiliate marketing spy tool supports 64 countries, 27+ affiliate networks, and comes in for almost half a price of AdPlexity – starter accounts pay as little as $59.99/mo! One of the downsides is that it doesn't offer a free trial. 
Best VPN solutions for affiliates 
Most affiliate marketers want their campaigns to run smoothly and efficiently regardless of the geo. That's why they all eventually recognize the need for a trustworthy VPN. Investing in a good privacy service might be a good idea even if you're just starting in the field. As a bonus, most paid VPNs will give you Netflix without local restrictions. 
It doesn't matter how many online rankings you check – NordVPN always comes in top 3. The solution supports every operation system, runs encrypted extensions on Chrome and Mozilla, and allows you to enjoy privacy from multiple devices. You can get a 2-year plan for just $5/mo or try it for one month. 
A common and cheaper alternative to Nord would be Surfshark, which will ask you for just $1.99/mo if you sign a 2-year contract with them. The number of servers supported by this VPN is significantly lower, yet it should be enough for you to launch a small international affiliate business without any issues. 
Usually appearing right next to Nord, ExpressVPN offers unlimited speed in 94 countries. This is the only solution providing VPN services for routers, consoles, and smart TVs on this list. Prices start from $8.32/mo. 
The best digital marketing tools for affiliates 
It's about time to remind you that, in its core, affiliate marketing is just another branch of digital marketing. That's why most tech solutions and tools can be applied to either. So it doesn't really matter if you work only with affiliate programs or run a few campaigns via email or social media as well – the basics remain the same. 
BuzzSumo's main purpose is to help content marketers with research. First and foremost, it finds the top-performing content in the industry for you to build your campaigns around. You can also use this content marketing tool to track trends and comments. So if you run ads on lesser popular platforms among affiliates like, let's say, Twitter or Reddit – BuzzSumo's a must-have. It could keep you updated on what's trending on more common affiliate traffic sources as well, so that you always stay in the loop.
Strictly speaking, OptinMonster is a lead-generation tool. And what marketer doesn't like themselves a good lead? The fun part begins when you actually pay attention to how they approach lead generation. Starting with a drag-and-drop builder specialized in creating ad offers, through targeting and segmentation AI, with analytics at the end – this tool alone can change the way you're thinking about not-just-affiliate marketing.
Hootsuite is one of the top social media management tools on the market these days. It allows you to easily manage all your social profiles from one platform and gives you insightful stats and reports. Featuring typical solutions, like auto-scheduling, social media calendars, etc., Hootsuite can definitely make social media presence easier for you and the brands you're promoting. 
Sumo is a free tool helping you automate your site growth by creating email capturing forms. Sumo runs on several plugins for WP, Shopify, and Google Tag Manager. While the free version should be more than enough for beginner marketers, you can get access to A/B tests, advanced visitor targeting, and deeper analytics for $39/mo. 
MailChimp is an easy marketing solution for those who want a little bit of everything in one. Starting with lander builders and social media management, these guys can help you with nearly everything for your affiliate campaign. On top of that, they offer CRM, audience segmentation & targeting, branding, email automation, and more. The best part is that you can definitely find a plan to match your price expectations. Their costs vary from $0 to $300/mo. 
Final thoughts
Turning an average affiliate marketing strategy into an excellent one doesn't have to be difficult. You just need to know where to look for help. And as you can see, there're plenty of affiliate marketing tools to choose from. I don't expect anyone to use all of them at the same time, but you should definitely give a try to those which caught your attention. 
To make it even easier for you, you already know which ad tracker to choose –

just go with Voluum!
No banner with provided ID found